Posted by Albert Kim | March 28, 2012
As with any convention, there were a lot of "meh" products and sponsored "experiences" at SXSW 2012.  However, Reed and I stopped by the ISIS demo booth and were pleasantly surprised by their offering: a mobile wallet solution that elegantly incorporates payment, offers, and loyalty.
Like Google Wallet, ISIS uses the magic of NFC (near field communication) technology to let you pay via contactless means, similar to how MasterCard PayPass works.
Google Wallet is only available on Sprint phones and has partnered with Citi and MasterCard to date, but the use of PayPass technology gives Google Wallet one leg up, as many retailers already have the means to accept PayPass payments.
However, ISIS seems to have a lot more major partnerships in its corner, with the backing of AT&T Mobility, T-Mobile USA, and Verizon Wireless.  Most recently, they announced partnerships with Chase, Capital One, and Barclaycard to allow you to load their credit cards within the app. Yet, unlike Google Wallet, ISIS has their own proprietary payment technology, which retailers must sign up for and enable at point of sale.  To address this issue, ISIS has secured pivotal agreements with four of the major payment system providers, who will offer hardware and/or software upgrades to their existing systems to enable ISIS.
If you don't use credit cards from the companies that have partnered with each service, both Google Wallet and ISIS offer their own payment cards (Google Prepaid Card and ISIS Cash Card, respectively), which you can load up using other methods of payment.  However, if ISIS continues to partner with more banks, we see this as a potential differentiator.
Another way ISIS differentiates itself from Google Wallet is through offers.  Google Wallet relies on Google Offers to showcase local deals.  ISIS not only shows local offers but also allows customers to "clip" coupons from NFC-enabled out-of-home signage, QR codes on printed materials (such as weekly circulars), and online via websites or email.  You can also follow merchants to automatically get their offers in your feed.
Both offer similar loyalty services, with future plans to allow you to store all your loyalty cards/keytags within the app.
Here's how ISIS envisions usage of their mobile wallet in the future:

Reed and I were able to test the concept using a vending machine and Reed scored a pretty cool notebook.  Take a look at how it worked, thanks to someone else's YouTube video: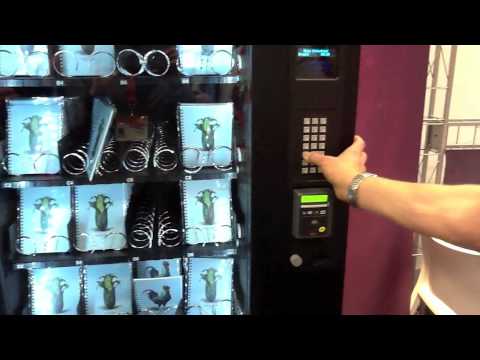 ISIS is launching test markets in Austin and Salt Lake City this summer, so we're excited to see how they fare.  The penetration of NFC technology in mobile phones and the installation of ISIS's proprietary technology will be major hurdles to overcome, but if they're able to keep signing major partnerships, ISIS could be a major contender in the mobile payment space.  Many believe that ISIS's success will have a significant impact on competitors like Google Wallet.
PS: For a pure sales pitch from a "cyber illusionist" that ISIS hired for SXSW, take a look at this video:

Image Credit: ISIS Home Page
Leave a Comment